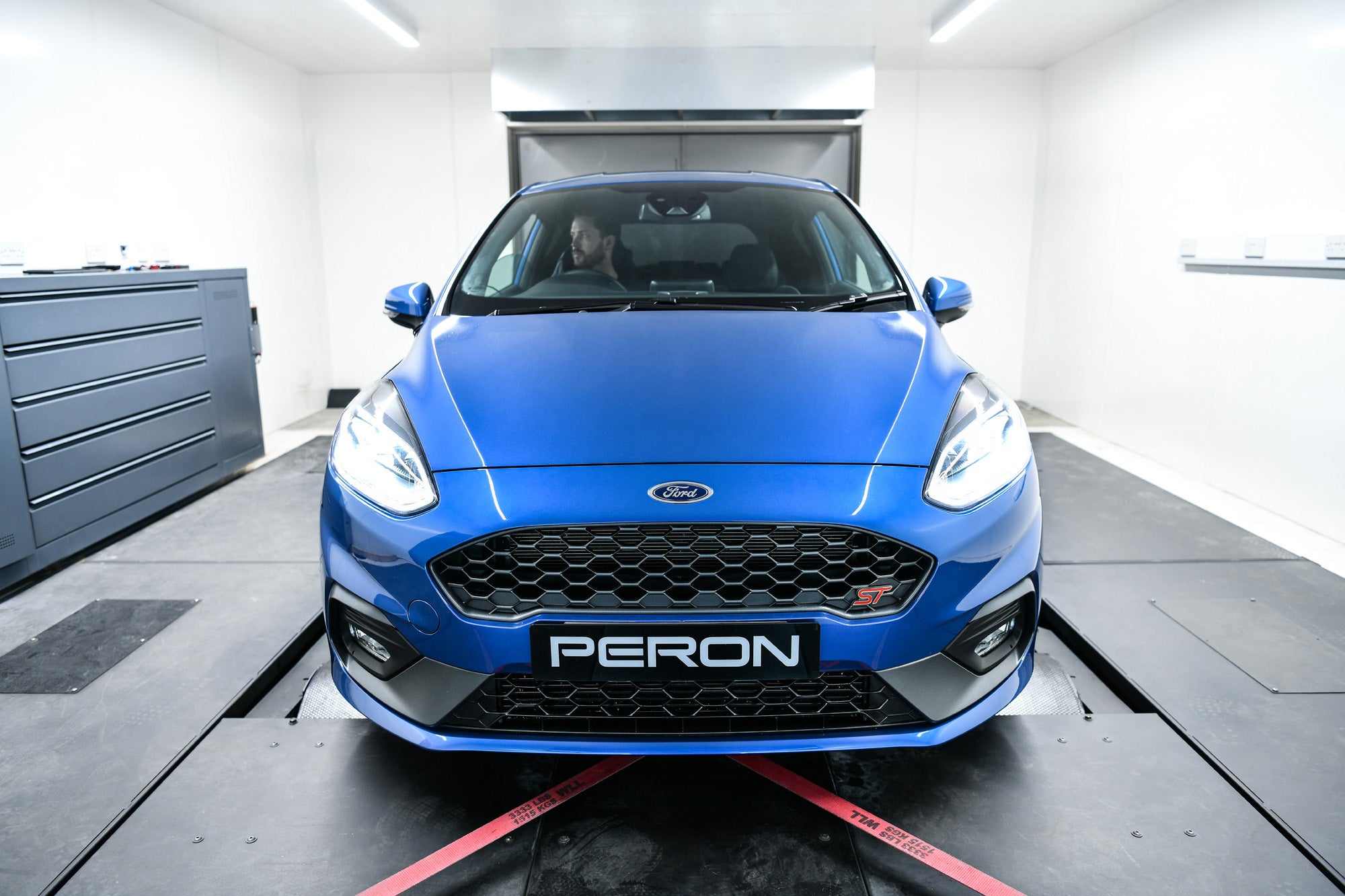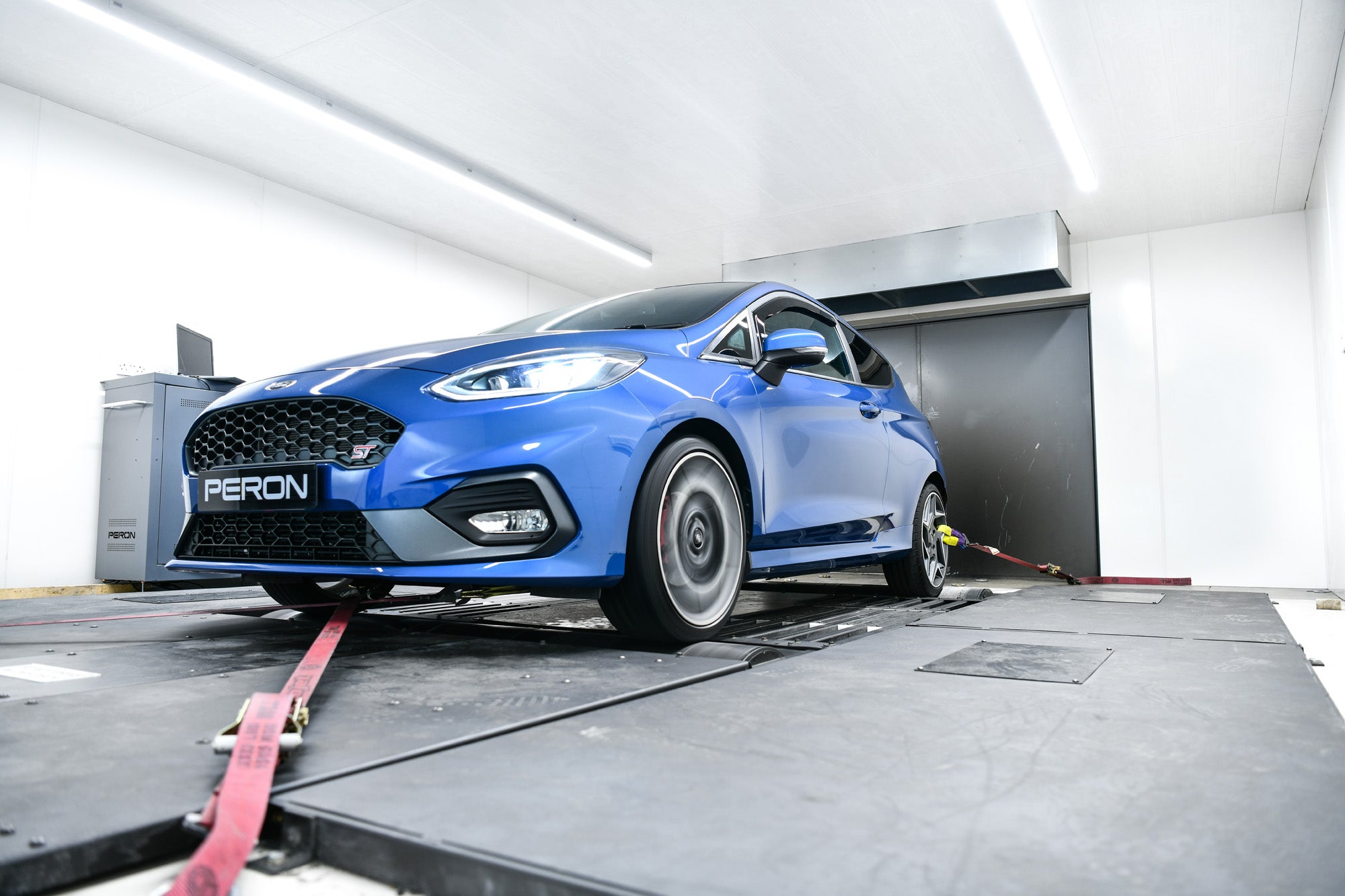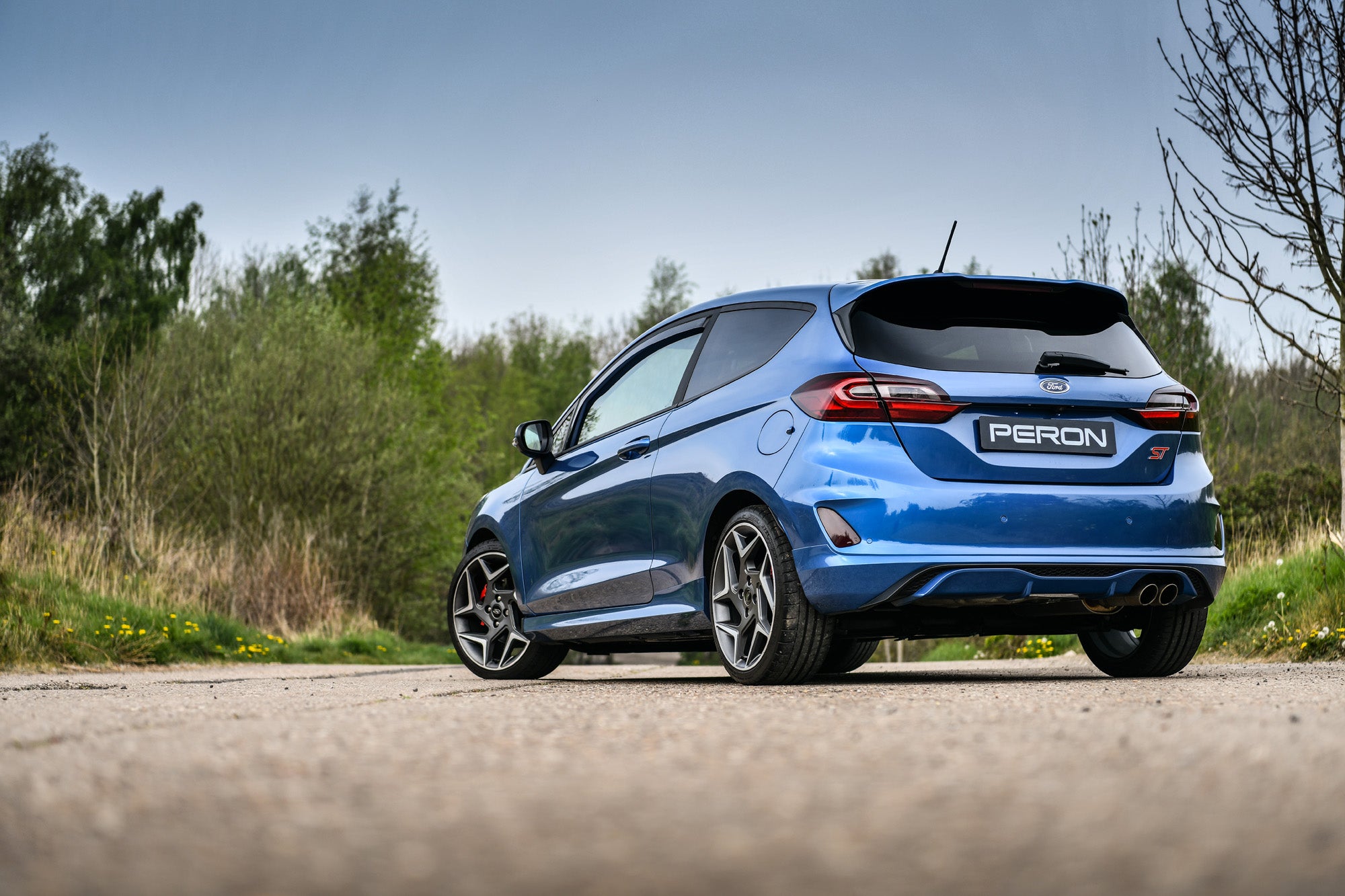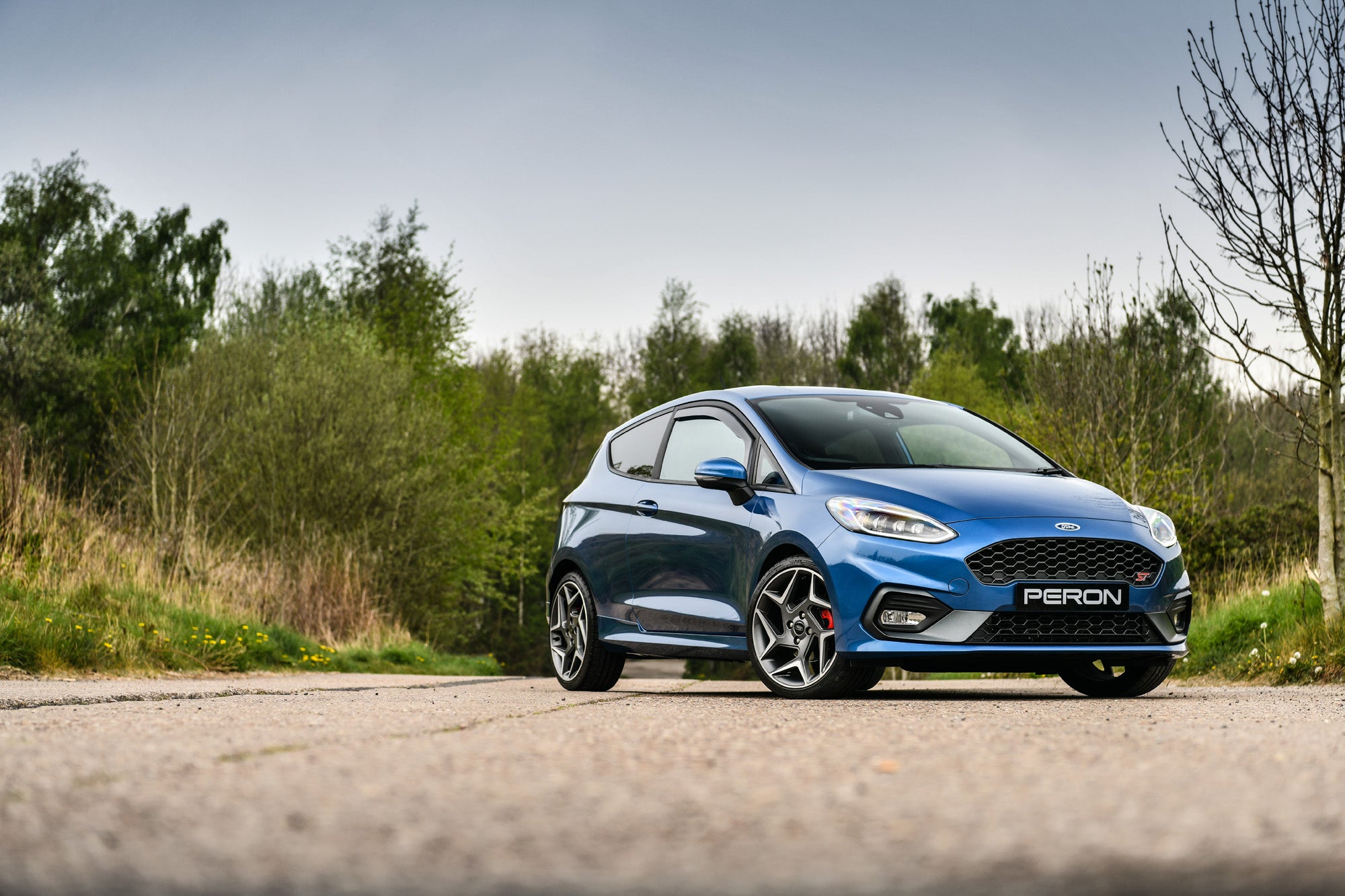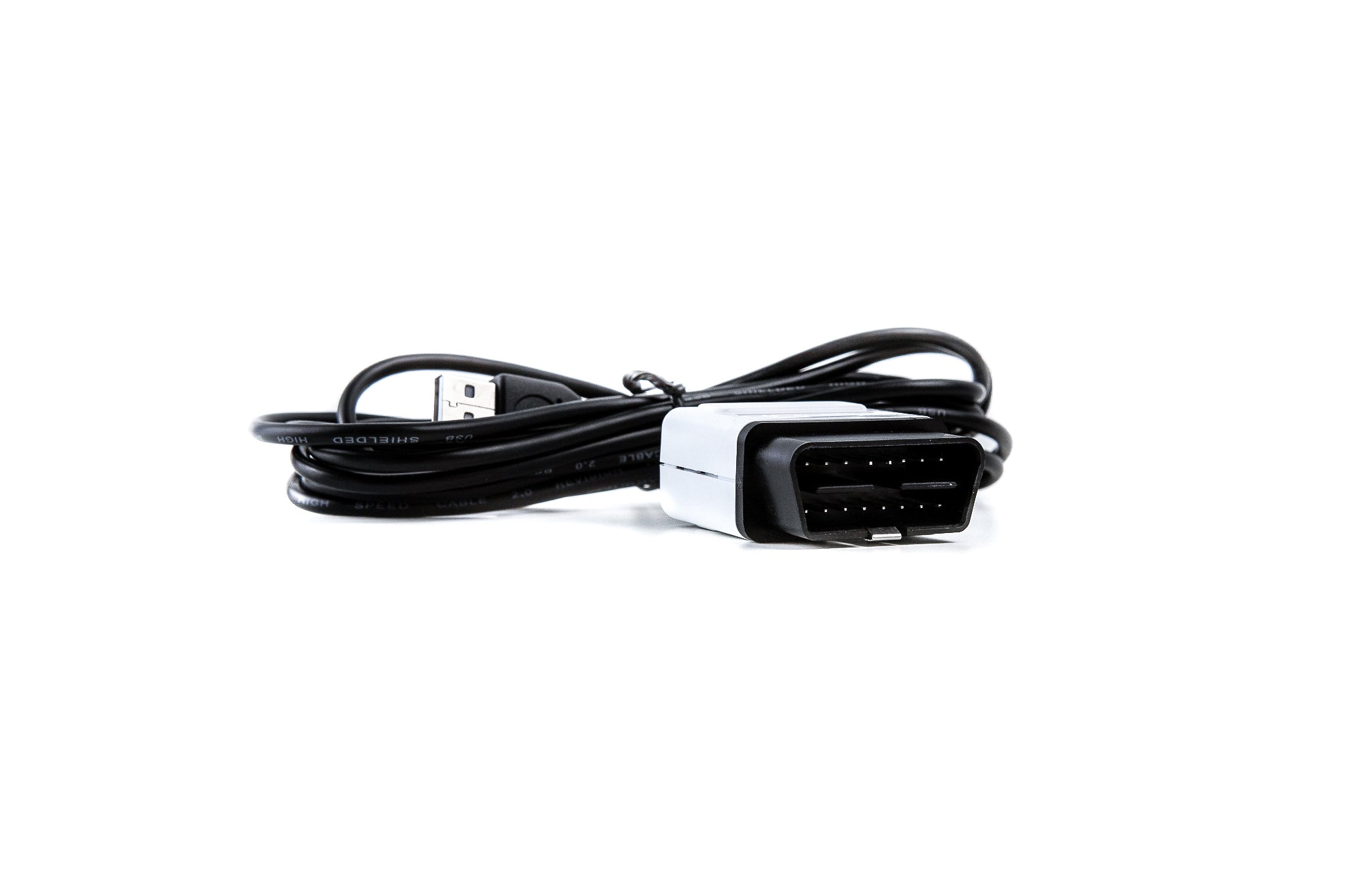 SKU: PEFD004
Ford Fiesta ST Mk8 1.5T - PERON STG1 & Flash Programmer
---
Pickup available at Unit 2c, Shortwood Court
Usually ready in 24 hours
Ford Fiesta ST Mk8 1.5T - PERON STG1 & Flash Programmer
Unit 2c, Shortwood Court
Shortwood Business Park
Hoyland, Barnsley S74 9LH
United Kingdom
+448456809342
---
Fiesta ST Mk8 PERON STG1 ECU calibration:



| | | | | |
| --- | --- | --- | --- | --- |
| TECHNICAL DATA* | Unit | Stock | PERON | Gains |
| Maximum Power | whp | 188 @ 5080 rpm | 221 @ 5430 rpm | + 33 |
| Maximum Torque | ft/lb | 212 @ 3480 rpm | 263 @ 2910 rpm | + 51 |

The brand new Fiesta ST Mk8 is a fantastic example of a modern-day turbocharged hot-hatch. With a lively chassis and punchy 3-pot 1.5T engine, it delivers a genuinely rewarding driving experience. But there's so much more hidden potential just waiting to be tapped into.

Our brief was to create a car that was faster and more responsive, without affecting everyday drivability. The PERON STG1 ECU calibration upgrade is designed to work in harmony with the stock 1.5T EcoBoost engine and requires no other upgrades to the vehicle's hardware, although we highly recommend a performance panel filter or intake system.

Bang for buck, we're confident that it represents the most cost-effective way of transforming the performance potential of the Fiesta ST.

STG1 Features 221whp and 263lb/ft 
- Gains of 33 whp and 51 ft/lb
- Mild pops and burbles enabled in Sport & Track modes
- Improved launch control strategy
- Removal of torque limits in all gears

What's Included?


- PERON Flash Programmer Tool




- PERON STG1 Tuning


- PERON Gel Badge
- Software download HERE
- Instructions download HERE



The PERON STG1 ECU calibration produces up to 221whp and 263lb/ft on stock hardware. These figures were achieved using a Dynojet Dyno (24m above sea level) and our Demo Fiesta ST Mk8 using 98RON Shell V-Power Nitro fuel. The ambient air temperature during the test was 15°C 

There's more to a PERON ECU calibration than a set of dyno figures. We focus on making the car more rewarding and, dare we say, fun to drive.

There's no point in having a power figure to boast about if the car is not enhanced as an overall package. And we think we've achieved this. In the real world, this translates to harder acceleration, a stronger midrange and consistent, linear power all the way to the redline. With PERON software, your car can also be quickly and easily put back to stock. Try a PERON STG1 ECU calibration and you won't look back!

Fuel Type
- Our STG1 calibration is designed for 95 - 99RON fuels.

*Please note: Installing the STG1 calibration without the recommended hardware or fuel grade may result in failure to make the quoted power / torque figures. Power figures may also vary according to ambient temperature, altitude and quality of fuel used.
With over 20 years' experience with the Bosch ECUs, our chief calibration engineer has developed an ECU tune, which we believe is the best in the business. Over many months and thousands of miles, we gained a detailed knowledge of the ECU in order to maximise its potential. We then set about increasing the engine load by raising the boost pressure, optimising ignition and cam timing, as well as lambda and other parameters.

Minute adjustments were made and logged in order to create an OEM-level of drivability. Factors such as throttle positioning and a perfectly smooth idle are critical factors that our engineers obsess over, while engine safety is paramount. The PERON STG1 ECU calibration retains OEM knock control sensitivity and other factory safety features to ensure the highest possible levels of durability. Having tested the PERON STG1 ECU calibration for over 3,000 miles on our own demo vehicle and applied it to thousands of cars worldwide, we are confident it represents the very best system currently available.

We see the PERON STG1 ECU calibration as how a special edition Fiesta ST could have left the Ford factory – faster and more responsive, but with that all-important OEM feel.