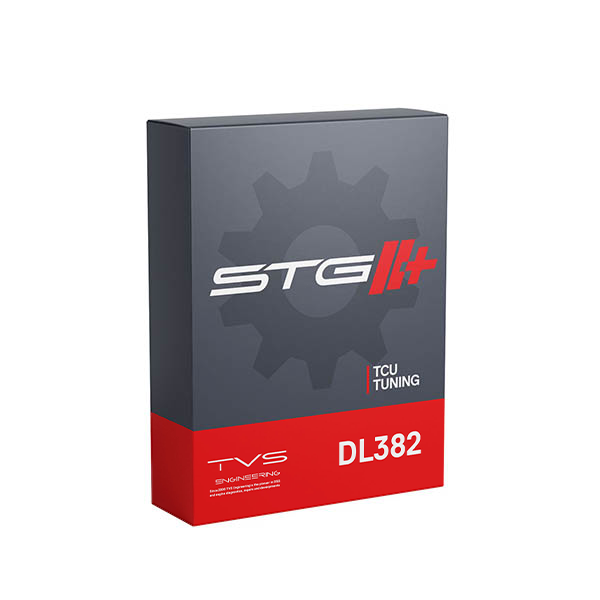 SKU: TVS-DL382-GEN3-STG2+
TVS Engineering | DL382 S-Tronic Gearbox Software (Gen3) 2014+ | Stage 2+ (600Nm)
---
---
---
TVS Stage 2+ DL382 S-Tronic software – for tuned Audi Q5 / A4 / A5 / A6 / A7 (2014 - Present)
Transform the performance of your DL382 7-speed wet clutch S-Tronic gearbox!
TVS Stage 2+ S-Tronic software highlights:
Clutch clamping force increased to handle up to 600Nm.

More responsive and better drivability in D, S , M modes.

Greater optimised cruise control program.

Faster shifting speeds up to 8000rpm.

Unnecessary/harsh downshifts removed.

Improved oil cooling.

Fully customisable.

Gear Display Indicator (MFA) activation.

Reduced Engine Braking.

Coasting disabled.
The TVS Tuning Stage 2+ software includes the Drivability Upgrade and further optimises performance of the 7-speed DL382 S-Tronic gearbox for tuned Q5 / A4 / A5 / A5 / A7, with engine variants of 2.0 TDI / 3.0 TDI / 1.8 TSI / 2.0 TSI, From 2014 - Present. (Not Including S4 / S5 / RS model variants). With stock clutches it will handle up to 600Nm of torque. 
While the wet clutch DL382 S-Tronic system is known to be generally strong, reliable and easy to use, there are some known issues, which can hamper drivability, especially with tuned vehicles.
These include: Shifting gears while at too low RPM , aggressive / unsmooth take-off from a standstill, bump during braking just before coming to a standstill, clutch vibrations and slip, gearbox error messages on the dashboard, vehicle doesn't want to move at all.
In the same way that ECU software optimises the way an engine performs, TVS' gearbox (TCU) software does the same for the twin-clutch S-Tronic unit. 
The programme removes unnecessary downshifts, allowing you to hold onto a gear for longer, but also increases the shifting speed, which provides a more responsive and enjoyable driving experience. The max shifting rpm is increased to 8000rpm and a special launch control function is also added.
With the clutch clamping force and torque limits both increased, the TVS DL382 Stage 2+ software can handle up to 600Nm on stock clutches.
As with all TVS Tuning software, full customisation is available, allowing Q5 / A4 / A5 / A5 / A7 owners to tailor DL382 S-Tronic performance to their preferred driving style.
Please note: TVS Software must be installed at either PERON HQ or any of our UK Dealers premises. This software is not currently available as a home-flash service.