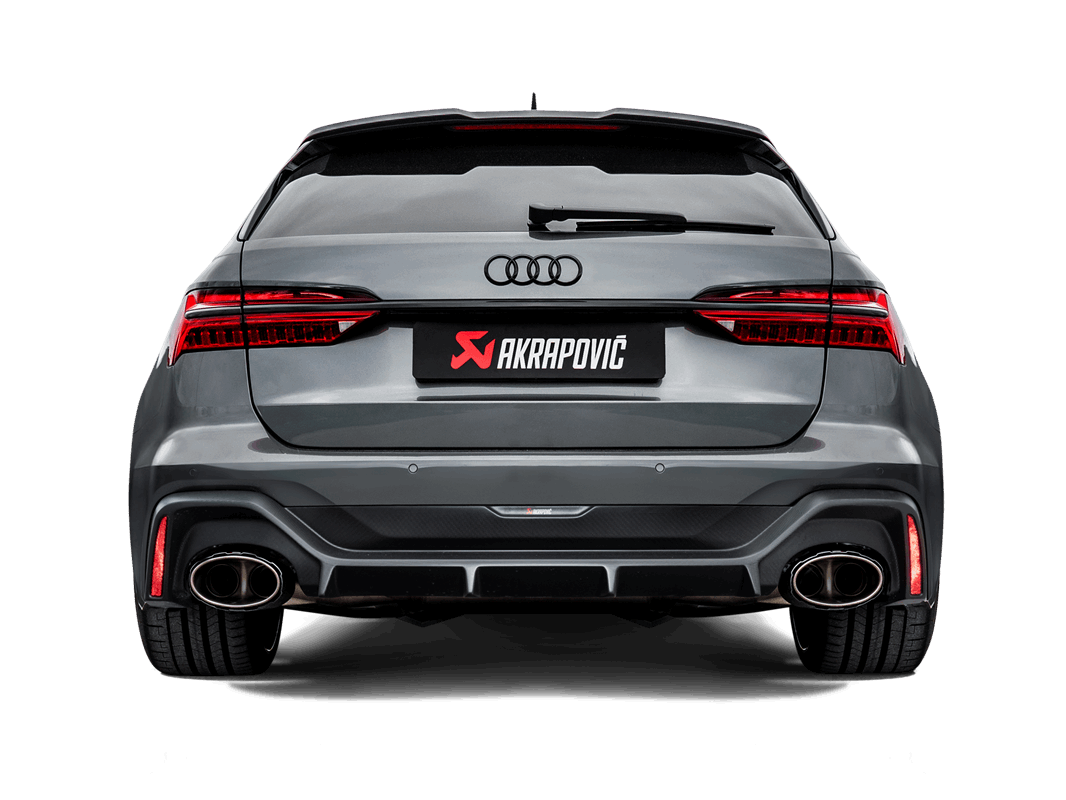 SKU: S-AU/TI/15H
Audi RS6 / RS7 (C8) | Akrapovic | Evolution Line System
---
---
---
Introducing the Audi C8 RS6 / RS7 Evolution Line Exhaust System, meticulously crafted from premium lightweight titanium for uncompromising performance and a refined aesthetic. This exceptional exhaust system features a specialized design, including central and dual side mufflers, a titanium collector, and larger stainless steel link pipes. Customized flex tubes and complete insulation at the downpipe connections ensure top-notch quality.

The side mufflers are equipped with valves that precisely regulate gas flow, contributing to an awe-inspiring sound experience. These valves, along with the active X-connection, are expertly crafted in-house at Akrapovič's foundry. To enhance the system's visual appeal, we've incorporated unique tailpipes constructed from a combination of carbon fiber and titanium. The handmade carbon fiber outer sleeve is seamlessly aligned with the sandblasted and coated titanium inner sleeve, resulting in a striking and sporty appearance.

But it's not just about looks – this exhaust system has been acoustically fine-tuned to deliver an exhilarating auditory experience at every rev point. From deep low-end rumbles to robust mid-range tones and high-frequency top-end notes, it reflects Akrapovič's racing heritage. Each downshift triggers a sharp rumble, adding to the excitement without any unwanted drone or excessive noise.

We've put this system to the test using our in-house dyno and an Audi RS 6 Avant (C8), comparing it to the stock Audi Sport exhaust system. Under controlled conditions, the Evolution Line exhaust system delivered a power increase of 15.7 hp (m) at 6150 rpm and a torque boost of 17.9 Nm at 6150 rpm, all while reducing weight by over 20% compared to the stock system. The system is ECE compliant and excels in all aspects of performance. For those seeking even more sound flexibility, consider enhancing it further with our optional Downpipe/Link Pipe Set (SS) and Akrapovič Sound Kit.

Please note that the ECE type approval for the Evolution Line (Titanium) exhaust system is not valid when the Akrapovič Sound Kit is installed, and ECE type approval applies only to vehicles equipped with otto/gasoline particulate filters. Rest assured, our exhaust system is compatible with the original Audi trailer hitch, ensuring versatility and functionality. Upgrade your Audi's performance and sound with the Audi C8 RS6 / RS7 Evolution Line Exhaust System from Akrapovič.