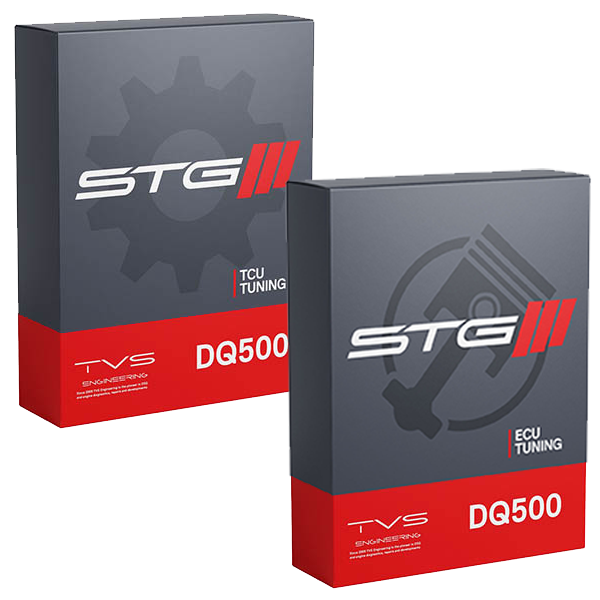 SKU: TVS-DQ500-RS-GEN3-ECU3-TCU3
TVS Engineering | DQ500 (Gen3 MQB MED17) 2015+ | Software Package | Stage 3 ECU - Stage 3 TCU
---
---
---
TVS ECU / TCU Software Package | Stage 3 ECU - Stage 3 TCU – For VAG MQB platform vehicles fitted with the DQ500 gearbox, 2015 - Present
This ECU software is custom made software for a vehicle with turbo or supercharger upgrades as well as supporting modifications. Please get in touch with PERON HQ or any of our UK TVS Dealers regarding your setup and what performance gains to expect. While the TCU is increasing the torque limits to suit the extra power and torque from the ECU calibration, to ensure the increased power will not cause any additional wear on transmission parts due to the increased power output from the engine, As well as benefiting from the drivability upgrade. 
TVS ECU Stage 3 highlights:

TVS TCU Stage 3 highlights:

Custom TVS Stage 3 ECU calibration, all TVS optional features included making your calibration completely customisable.

Data analysing and fine tuning.

Dyno run and dyno sheet.

Engine and Gearbox Diagnostics.

Improved temperature protection - enhanced engine cooling and oil temperature management.

Ability to remove vehicle speed limiters.

Motorsport rev limiter (hard cut) - As well as adjust the point of the limiter.

Diesel Particulate Filter (DPF) / Exhaust Gas Recirculation (EGR) / Lambda-O2 Delete (decat) - deactivation.

Exhaust Crackle / Over run / Decel.

Intake Swirl flaps delete.

Cylinder On Demand (COD) / Active Cylinder technology (ACT) / Start-Stop Removal.

Map sensor scaling.

Upgraded injector calibration.

Improved fuel economy. 

Clutch clamping force increased to handle up to 800Nm

More responsive and better drivability in D and S modes

Faster shifting speeds up to 8000rpm

Torque limits raised

Unnecessary/harsh downshifts removed

Improved oil cooling

Fully customisable




TVS ECU Stage 3 software optimises the engine performance of the VAG platform vehicles. While the TVS TCU stage 3 software includes the Drivability Upgrade and further optimises performance of the 7-speed DQ500 DSG gearbox for tuned vehicles with the following engines: 2.5 TSI (2015 - Present).
While the DQ500 DSG system is known to be generally strong, reliable and easy to use, there are some known issues, which can hamper drivability, especially with tuned vehicles.
These include: lack of response (delay in shifting); harsh, unwanted kickdown and a less-than-smooth pull away from standstill. From the factory, Sport mode is too aggressive and high-revving for many situations, while in Drive, shifts may feel sluggish – both impacting on the drivability of the vehicle.
The TCU software removes unnecessary downshifts, allowing you to hold onto a gear for longer, but also increases the shifting speed, which provides a more responsive and enjoyable driving experience. With the clutch clamping force and torque limits both increased, the TVS DQ500 Stage 3 software can handle up to 800Nm on stock clutches.
Please note: The TVS ECU Stage 3 software is designed specifically for vehicles with turbo / supercharger upgrades along with supporting modifications. 
TVS Software must be installed at either PERON HQ or any of our UK Dealers premises. This software is not currently available as a home-flash service.