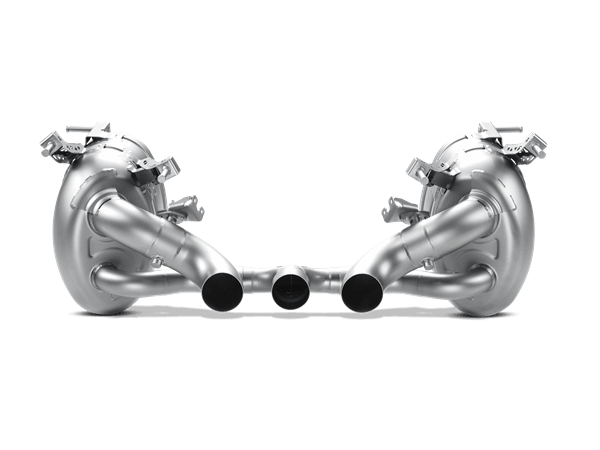 SKU: MTP-FE458H
Ferrari 458 Italia / 458 Spider Slip-On Line (Titanium)
---
---
---
Elevate Your Ferrari 458 Italia Experience with Akrapovič!
The Ferrari 458 Italia is an automotive masterpiece, known for its lightweight construction, cutting-edge technology, and a powerful 570 hp 4.5-liter engine that delivers a truly unforgettable driving experience.
Now, take your 458 Italia to the next level with our high-performance titanium Slip-On exhaust system. Here's why you should consider this upgrade:
More Power: Our Slip-On exhaust system not only enhances the already impressive power of your Ferrari but also reduces weight, improving overall performance.

Sporty Sound: Experience an enhanced and sportier exhaust note that complements the Ferrari's high-revving V8 engine. Our system features dual-mode exhaust valves and a triple exit design that provides a crisp yet subdued sound at low rpm and an exhilarating deep sporty roar at higher rpm.

Carbon Fiber Tailpipes: Complete the look of your Ferrari with a set of three exquisite carbon fiber tailpipes, adding a touch of elegance to the rear.

Advanced Tuning Options: For those seeking even more aggressive sound and performance, explore our titanium link pipe set with high-flow catalytic converters, offering further tuning opportunities.
Important Note:
When installing Akrapovič aftermarket optional down pipes with sports catalytic converters or without catalytic converters (designed for closed track use), ECU remapping is mandatory.
For Akrapovič aftermarket exhaust systems developed for closed track use, we strongly recommend remapping the ECU to prevent potential "check engine light" warning signals.
Upgrade your Ferrari 458 Italia with Akrapovič, where innovation meets performance. Elevate your driving experience today!